Places of Worship
Sodality Chapel

Under the supervision of the first Jesuit President, Fr. Francis Gautrelet, S.J., Spring Hill students built the Sodality Chapel in 1850.  This simple, yet beautiful building is still in use daily for worship.  The Sodality Chapel is located across from the Outlaw Recreation Center.
St. Joseph Chapel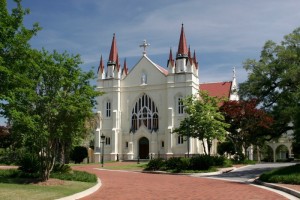 St. Joseph Chapel stands as the spiritual heart of the Spring Hill campus.  On Sundays, weekdays during the school year, and at other significant times the community gathers to celebrate, pray, welcome and give thanks.  This holy place is not restricted to liturgical celebrations.  Many in the SHC community use it 24 hours a day as a place for prayer and meditation.  The doors are always open and everyone is always welcome.
Mass Schedule
Sundays
11:00 am St. Joseph Chapel
9:00 pm St. Joseph Chapel (during the academic year)
Weekdays
7:30am Sodality Chapel (during the academic year)
12:15pm St. Joseph Chapel (during the academic year)
First Friday Memorial Mass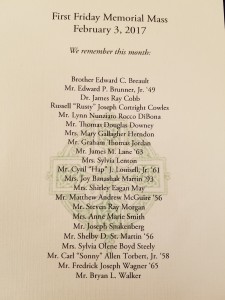 On the First Friday of each month during the academic year, the 12:15 pm Mass in St. Joseph Chapel is offered for all alumni, family members of students, faculty and staff, and friends and benefactors of the college who have died in the past month.  We also pray for them, and all whom people write into our Book of Remembrance during the month of November.  If there is anyone that you would like us to include, write us at campusministry@shc.edu.
Special Celebrations
Mass of the Holy Spirit – August 21, 2018 11:15 am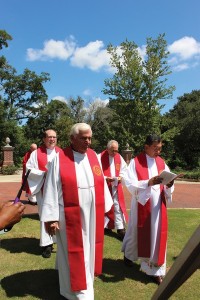 Following the long tradition in Jesuit education, the college community gathers to prayerfully call upon the aid of the Holy Spirit, as a new academic year begins. This Mass draws over 500 students, faculty and staff. A choir consisting of students, faculty and staff is formed to make the Liturgy vibrant and energetic. Presided over by the Rector of the Jesuit community, all Jesuits on campus concelebrate at this Eucharist.
Jesuit Martyrs Mass – November 11, 2018 9:00 pm
Each year we honor the legacy of the six Jesuits, their housekeeper and her daughter who were murdered at the University of Central America in November of 1999.  Like Christ, they were killed for their choice to seek peace rather than power.  During November we remember and give thanks for the witness of faith of the martyrs and our brothers and sisters in Central America who have gone before us.
 Alumni Christmas Eve Mass – December 24, 2018 4:00 pm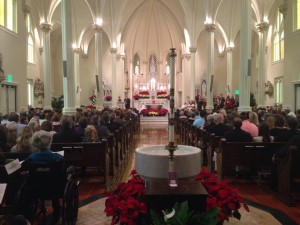 A long-standing tradition, over 400 alumni and their families return to Spring Hill's St. Joseph Chapel to celebrate the Christmas liturgy.
Baccalaureate Mass – May 3, 2019 4:30 pm
This mass is celebrated the in thanksgiving to God for the successful end to each student's academic career at the college, the day before Commencement.