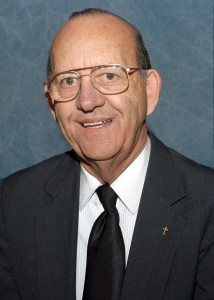 Brother Ferrell Blank, S.J., is a man of many talents. A native of Gramercy, Louisiana, he entered the Society of Jesus as a brother in 1955 took his final vows as a Jesuit at Spring Hill College
in 1966. Ferrell was certified as a plant engineer in 1976, and directed operations at Spring
Hill for many years, where he was of great assistance in putting the college back together after Hurricane Frederic in 1979. While he is now semi-retired, Ferrell is still renown for his andouille and chicken gumbo.